JK Rowling apologises over Trump criticism
JK Rowling has apologised for accusing President Donald Trump of ignoring a
disabled little one on the White Home.
The Harry Potter writer accused the US President of a "gorgeous" and "horrible" response when he appeared to keep away from shaking the boy's hand in a video.
"How gorgeous, and the way horrible, that Trump can not convey himself to shake the hand of a small boy who solely wished to the touch the president," the writer wrote on Twitter.
However Rowling was corrected by the boy's mom, who wrote on Fb: "If somebody can please get a message to JK Rowling: Trump did not snub my son & Monty wasn't even making an attempt to shake his hand".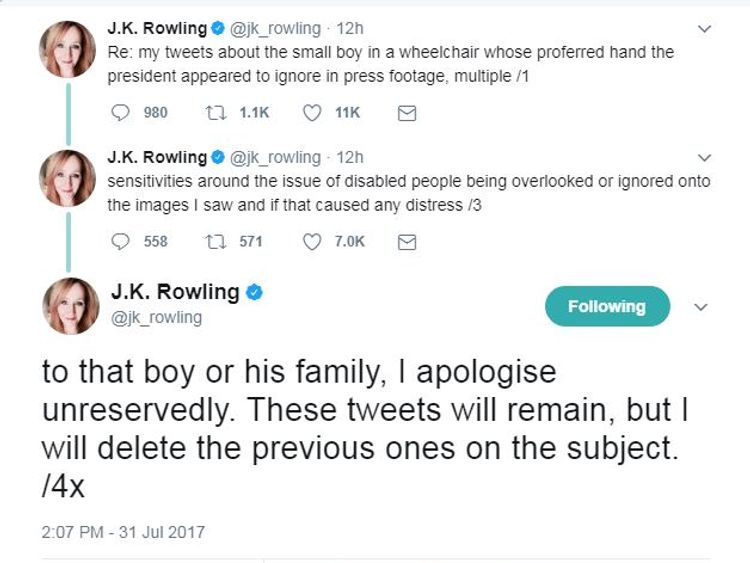 The writer, a vocal critic of President Trump, "apologised unreservedly" in a sequence of following Twitter posts.
"Re: my tweets concerning the small boy in a wheelchair whose proffered hand the president appeared to disregard in press footage," she wrote, deleting her earlier submit.
"A number of sources have knowledgeable me that that was not a full or correct illustration of their interplay," she added.
"I very clearly projected my very own sensitivities across the concern of disabled individuals being ignored or ignored onto the photographs I noticed and if that triggered any misery to that boy or his household, I apologise unreservedly."
JK Rowling didn't apologise to President Trump immediately.